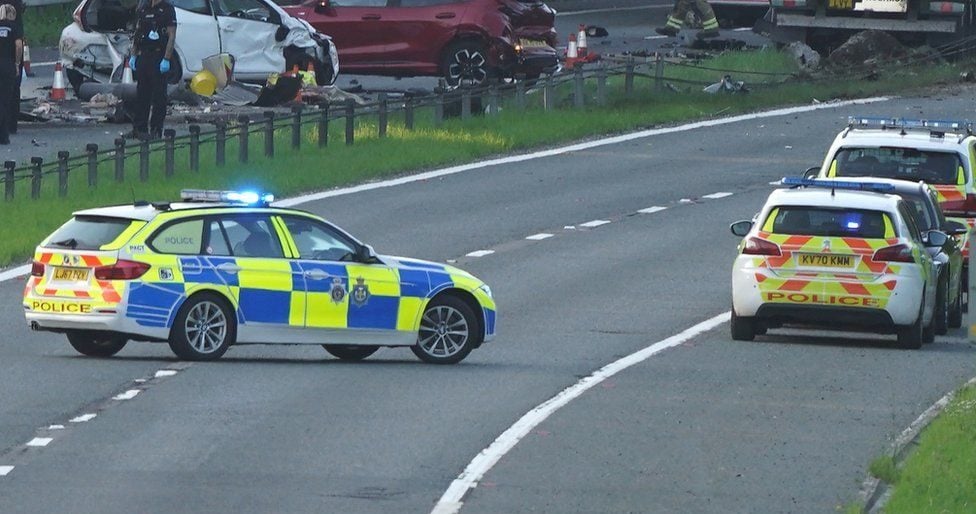 HGV driver using mobile phone jailed for causing fatal A1 accident
A lorry driver has been jailed for more than eight years after his truck hit several vehicles, killing three people.
Ion Onut was trawling dating sites on his mobile phone when he crashed his Scania lorry in slow-moving traffic on the northbound carriageway of the A1(M) last July.
Onut's vehicle was traveling at 58mph when it hit another lorry and four cars before coming to rest on the central reserve and bursting into flames.
The 41-year-old was rescued from his burning taxi by members of the public and then arrested by police at the scene.
Couple David Daglish and Elaine Sullivan of Seaham, County Durham, and Paul Mullen, of Washington, Tyne and Wear, all died instantly.
Forensic examinations of his mobile phone revealed that Onut, from Galashiels, Scotland, had repeatedly used the device's web browser throughout his journey from Cambridgeshire until the time of the collision, which performed at 6:18 p.m. in Bowburn on July 15.
He was charged with three counts of causing death by dangerous driving, which he admitted, and was jailed for eight years and 10 months. He was also banned from driving for more than 14 years.
Conviction Onut, Judge James Adkin said: "You weren't sleeping behind the wheel, which would have been bad enough, in fact you were scouring the internet for casual sex partners."
Onut lived with his family in Galashiels, Scotland, and hauled fertilizer for a haulage business.
It first hit the Vaxhaull Crossland carrying 57-year-old Dalglish and 59-year-old Sullivan.
He then crashed Mullen's 51-year-old Toyota Hilux under another truck before continuing down the road, injuring three.
Prosecutor Nick Dry told the court: "He was completely engrossed in internet activity, seeking sexual gratification, for an extended period while controlling a large freight truck on a busy highway."
Intervening after the pronouncement of the sentence, Sergeant Catherine Iley, Durham Constabulary, said: "This was a truly heartbreaking incident for everyone involved and our thoughts remain with Elaine's family and friends, David and Paul.
"They have shown great dignity throughout this investigation and helped wherever they could, while trying to come to terms with the loss of their loved ones in such devastating circumstances.
"It was incredibly distressing and upsetting for those who witnessed the collision and for emergency responders, including police, firefighters and paramedics, who attended the scene.
"The horror of what they witnessed that day will no doubt stay with them for many years to come."
Iley says the case serves as a "terrible warning" of what can happen when drivers use a cellphone or device while driving a vehicle.
"Whatever the purpose of their use, they are a distraction and, as this case shows, that distraction could have devastating and far-reaching consequences," she added.
The following video contains some very distressing footage.