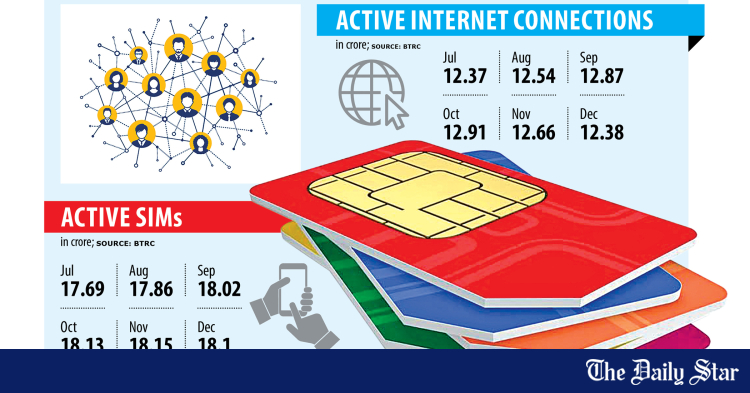 Mobile, Internet users increase in 2021
The number of mobile subscribers in December increased by around 6% year-on-year to 18.10 crores, data from the Bangladesh Telecommunications Regulatory Commission showed yesterday.
This translates into telecom operator customer acquisitions that continue to grow and exceed the country's population figure, or in other words, many are now using multiple SIM cards.
For all the latest news, follow the Daily Star's Google News channel.
The industry lost around 30 lakh customers during the March-June period in 2020 as the country entered a full lockdown to prevent the spread of Covid-19. Since then, the number of users has increased almost every month.
Likewise, the number of internet users increased by 10.73% year-on-year to reach 12.38 crores in December. It was 11.18 crores in the same month in 2020.
Currently, 11.37 million subscribers use the Internet through portable devices, while the rest depend on Internet service providers and public switched telephone network operators.
However, the number of mobile and internet subscribers fell in December last year compared to the previous month, with operators losing around 5 lakh mobile customers and internet users by 28 lakh.
HOW WAS 2021 FOR OPERATORS
Robi Axiata, the second largest operator, which passed the 5 crore subscriber milestone in September 2020, grew by 5.30% in December last year to reach 5.36 crore customers. In the same month in 2020, it was 5.09 crore.
The operator lost around 1 lakh of customers in December last year compared to a month earlier.
According to Shahed Alam, managing director and chief regulatory officer at Robi Axiata, fluctuations in the number of customers were a normal and regular phenomenon in the industry.
"However, the magnitude of observed churn and addition clearly indicates that we have a hypercompetitive market. Such a scenario only increases the overall cost of acquisition for smaller operators," he said.
Third-placed Banglalink grew 5.6% year-on-year in December to take the number of customers to 3.72 crore.
It only lost about 20,000 customers in December compared to the previous month.
"2021 has been a year of significant growth for Banglalink despite several challenges. Our fastest Ookla-certified 4G network powered by new spectrum has been key to expanding our customer base," said Taimur Rahman, director of corporate and regulatory affairs for the operator. .
Other than that, he said his broad portfolio of digital services played a significant contribution. "It's encouraging to see our focused investments performing so well throughout the year," he said.
The total number of mobile phone customers of market leader Grameenphone jumped 5.56% to 8.34 crores in December from 7.90 crores in December 2020.
However, the operator lost more than 5,000 customers in December compared to November. According to Md Hasan, external communications manager at Grameenphone, the operator converted all its towers to 4G in 2021 to ensure better customer experience, leading to continued customer growth.
"In addition, the company is continuously investing in modernizing its network by deploying new towers, deploying additional spectrum at more than 10,000 sites and significantly improving its quality of service," he said.
For state-owned Teletalk, which lags far behind all private operators, 2021 has been a year to celebrate as it added around 17 lakh customers in the last 12 months.
It grew by 35% to around 67 lakh customers year-over-year in December. While other private operators lost customers in December compared to November, Teletalk added over a million customers.
Telecommunications Minister Mustafa Jabbar attributed the growth to the network expansion and infrastructure development of Teletalk.
"We have rolled out our network to many remote areas and invested heavily in infrastructure development, which has paid off well," he said.
Regarding the operator's weak position in the market compared to other private operators, he said Teletalk's investment was thin compared to Grameenphone or Robi.
"So now we want to invest more and bring the service to remote areas where other operators don't provide service," he said.