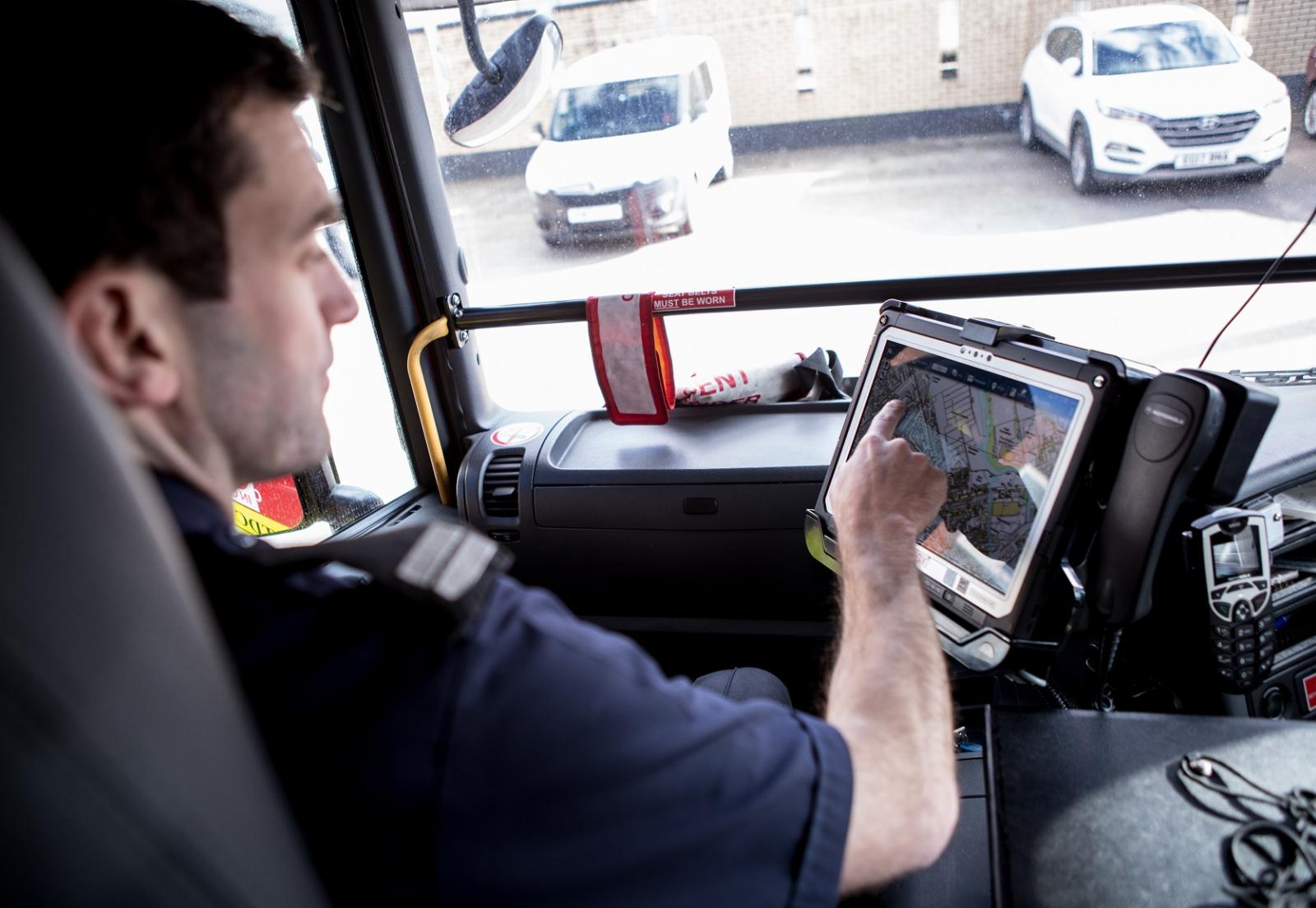 Mobile technology continues to provide benefits to UK fire departments
When the Dorset & Wiltshire Fire and Rescue Service (DWFRS) upgraded its Mobile Data Terminals (MDTs) to rugged devices in 2018, it was also one of the country's first fire departments. to install removable devices at the back of devices to accompany firefighters. when they leave the vehicles.
Three years later, these removable notebooks have become more than a computer, they are perceived as an "operational tool" by firefighters, just like the breathing apparatus or the emergency equipment they use.
"We knew from the start that we wanted a scalable device," said Daniel Grew, head of mobile data technology at DWFRS.
"Whatever firefighters demand in the future, I wanted to be able to say yes and we needed a device that could meet that need.
DWFRS initially evaluated over 20 rugged and unhardened devices before selecting the Panasonic TOUGHBOOK 33 laptop.
He decided that a top-notch ruggedized device over a conventional consumer tablet would deliver many more long-term applications to improve the working environment for firefighters and provide a much better return on investment.
In particular, DWFRS chose the notebook because it could evolve to meet future needs, with dual memory, the latest Bluetooth technology for future addition of third-party devices, and a built-in RFID reader to enable secure but easy-to-use authentication.
Additionally, Daniel said it was a device he "didn't need to worry about".
"We know these devices work. There are no worries about their performance and whether they will work when they inevitably get wet. We have over 200 devices, and we're still seeing single-digit failure rates over three years later. "
DWFRS has just under 100 removable devices in its vehicles which it calls Risk Information Tablets (RITs).
Over the past three years, the use of devices has continued to evolve.
Daniel said they learned a lot in a short time after deployment: "On day one it's hard to figure out exactly what the device needs and how it will be used, but once you put it on in the hands of users, it quickly becomes clear. "
Firefighters needed faster and easier access to devices, once equipped and at the scene of an incident.
As a result, the team adapted the login and authentication process without compromising security.
As teams became more familiar with the devices, requests for enhancements and additional apps started pouring in.
Today, the devices are used for an incredibly wide range of applications.
They can be used to assist fire crews with detailed diagrams of vehicles to help them rescue trapped people, accessing site-specific hazard information, as well as locating information on fire pipes. water and hydrants, as well as tools for conducting community fire safety assessments.
Additional applications include integration of What3Words for specific locations, access to internal systems for email, video communications and intranets.
It also includes a simple screen cleaning app where the screen becomes unresponsive for 20 seconds to allow the user to quickly wipe water and dirt off the screen.
"When we get feedback, we're looking to rework the process to make it more usable or see what we can add to make life easier for users," Daniel explained.
"For example, recently we had very valuable feedback when a firefighter said he was taking the device out of the vehicle to use it in an incident and then putting it back in the vehicle before moving on. to action because he needed both hands. be free.
"As a result, we are looking at suspenders that will allow devices to continue to be available during an incident. They can be hung next to the firefighter, keeping both hands free, but be available instantly when needed.
Other future possibilities include providing each crew member with a small tracking device that will allow the RIT to be used to monitor the location and safety of crew members.
Ability to monitor, manage and maintain
For the IT team, the ability to monitor, manage and maintain device security has also been of great benefit.
To ensure that fire teams have constant data connectivity during emergency calls, mobility and diagnostic software is used on the devices.
It monitors the connections, devices, applications and networks used to ensure that information and applications are available when needed.
It also provides the tools to quickly and accurately identify connectivity issues to keep mobile users productive.
Data security
With devices used outside of vehicles, ensuring data security is a priority and DWFRS has the ability to centrally track and secure devices.
The technology is built into the chipset and once activated using a cloud-based console, it can remotely identify, track and deactivate a device if it is stolen or missing.
Efficient remote management
To enable firefighters to efficiently maintain their devices at multiple sites across counties, the devices also feature a range of apps to help IT administrators monitor and analyze data from each device.
It does this by looking at device performance for signal strength, battery life, network performance, and app usage.
These tools help IT teams make sure devices are used efficiently and can help predict when maintenance, such as battery replacement, is needed, keeping devices in the field longer and making scheduled maintenance more efficient. easy and more efficient.
Unlock even more potential
Daniel concluded that the journey from the firefighters' initial hesitation to acceptance and recognition of the value of mobile technology had been gradually gradual.
"It's not a computer anymore," he added.
"It's seen as an operational tool whose potential we can continue to harness to make firefighters even more efficient. "
With the MDT and RIT solution using devices approved by ESN, the fire department is also ready for the transition to the new emergency services network as soon as it goes live.
Fire departments across the country are starting to reap similar benefits from their mobile technology deployments, but DWFRS is certainly one of the pioneering organizations in its use.