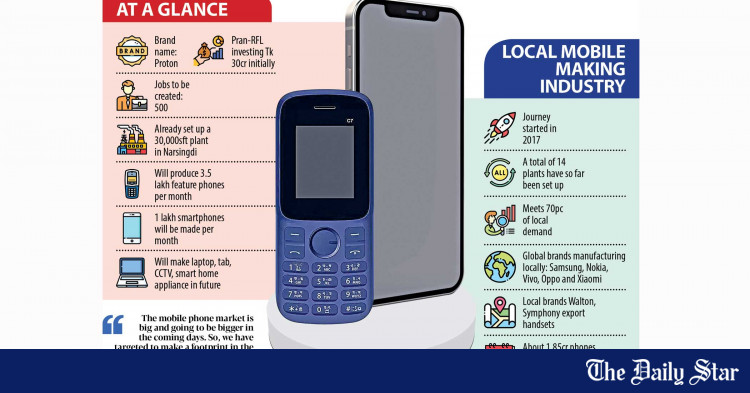 Pran-RFL enters the manufacture of mobile phones
The country's manufacturing and processing giant, Pran-RFL Group, has made a foray into mobile phone manufacturing to grab a share of the booming digital device market in Bangladesh.
The group has already set up a 30,000 square foot manufacturing plant in Palash, Narsingdi. At its peak, it will produce 3.5 lakh of feature phones and 1 lakh of smartphones per month.
Its first batch of phones could hit the market soon.
"Pran-RFL is still manufacturing essential products. Now, for the first time, the group is entering the information technology sector through the establishment of a mobile manufacturing plant," said Kamruzzaman Kamal, Director of group marketing, to the Daily Star. .
"The mobile phone market is huge and it will become so in the next few days, so we aim to make a place for ourselves in the sector. We hope this will further brighten up our brand image."
The group has initially invested around Tk 30 crore and over 500 people will be recruited into the factory to start.
RFL Electronics, a sister company of the RFL Group, will run the business under the Proton brand.
The group also plans to manufacture mobile phone accessories, laptops, tablets, CCTVs and smart home appliances.
Its entry into the digital device market comes at a time when several companies have already invested heavily in the segment and a range of devices are now being assembled or manufactured in Bangladesh.
In recent years, local handset production has made an impressive leap, helped by huge government tax benefits in the 2017-2018 financial year.
Since then, 14 factories have been created, creating jobs for around 17,000 people. Four other factories, including that of Pran-RFL Group, are planned.
The annual handset market is between Tk 11,000 crore and Tk 12,000 crore. The accessories market represents at least a quarter of the handset market, according to manufacturers.
Supported by steady economic growth and rising per capita income, cellphone sales are growing rapidly in an economy that Fitch Ratings is expected to accelerate to 7.2% in the current fiscal year.
The demand for mobile phones was 4.10 crore in 2020-2021, of which 63% was met by local manufacturers.
In the first six months of this year, around 1.85 crore of handsets were manufactured locally. Among them, 65% were feature phones, according to data from the Bangladesh Telecommunications Regulatory Commission (BTRC).
According to the Bangladesh Mobile Phone Importers Association, mobile phone sales have increased by 17% in value and 8% in volume over the past five years. Thanks to local manufacturing, handset prices have fallen by more than 35%.
But the recent withdrawal of a 5% VAT exemption at the sales stage, as well as the current global crisis, have had a negative impact on the local industry.
However, this could prove to be a boon for the Pran-RFL Group's plan to take over the market.
"Majority of people in Bangladesh do not have the ability to buy mobile phones from foreign brands as they are expensive. To meet the demand of people from all walks of life, RFL plans to sell mobile phones at affordable prices" , Kamal said.
"Pran-RFL Group is a big company and its entry into phone manufacturing is welcome news," said BTRC Chairman Shyam Sunder Sikder.
"If more companies enter the market, customers will get devices at more competitive prices. If local companies can export devices, it could be a source of foreign exchange for us."
In fact, local brands have already started shipping smartphones overseas. Walton Group exports smartphones to the United States and Symphony to Nepal.
The Pran-RFL group will face fierce competition from local and global companies.
Walton now manufactures laptops, computers, printers and tabs alongside mobile phones. Global brands such as Samsung, Vivo, Oppo, and Xiaomi hold a large market share.
Pran-RFL is the largest food processor and household products manufacturer in Bangladesh and has entered new vertical markets since its inception nearly four decades ago.
The group is present in the fields of agro-industry, plastics, light engineering, furniture, electronics, bicycles, packaging and ready-to-wear.
It has factories in 25 locations across the country and exports to 145 countries. In 2021-2022, it shipped goods worth $532 million.
Pran-RFL is the largest employer in Bangladesh, directly creating jobs for around 1.5 lakh people.