Three charts that show China's mobile technology revolution
John Villasenor, Lei Wen and Jianwen Chen recently co-authored a Forbes blog post titled "China's Wireless Industry in Ten Charts". They use the latest data to illustrate the rapid growth of mobile technology in China. The graphics paint a compelling picture of a country in the midst of a transformative ICT revolution. Rapid improvements to China's mobile infrastructure will have lasting economic benefits.
Mobile phones continue to replace landlines
The number of fixed-line telephone subscriptions has declined every year since its peak in 2007. The ICT market in China has undergone enormous changes over the past two decades. From 1993 to 2007, the number of fixed mobile subscriptions multiplied by more than fifty. The number of mobile telephone subscriptions surpassed that of fixed telephony in 2003 and has grown exponentially. The number of mobile telephone subscriptions in 2013 is three times higher than the record number of fixed telephone subscriptions in 2007.
Mobile internet traffic continues to grow rapidly
Mobile Internet traffic has exploded over the past five years. From 2009 to 2013, it increased tenfold. This traffic estimate is slightly higher than the Cisco Visual Networking Index estimate. Cisco VNI estimated that 1,116,000 terabytes were transferred over Chinese mobile networks in 2013. Both forecasts indicate that Chinese consumers are using an increasing number of bytes on their mobile phones.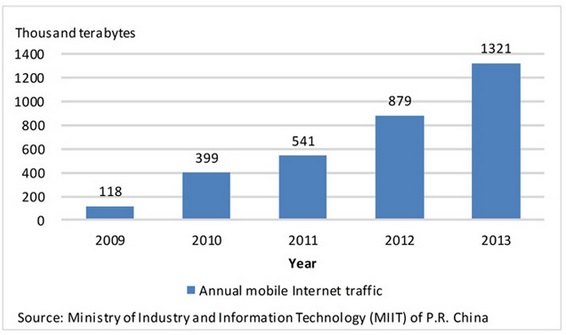 Mobile phones are big business in China
Revenues from mobile-based wireless data services have far outpaced growth in subscriptions and traffic. The number of subscribers almost doubled and traffic increased about eleven times between 2009 and 2013. But annual revenues from wireless data services increased twenty times. In 2013, revenues reached nearly $32 billion.